TABASCO® Brand and Popeyes®: Louisiana Favorites Partner for a Global LTO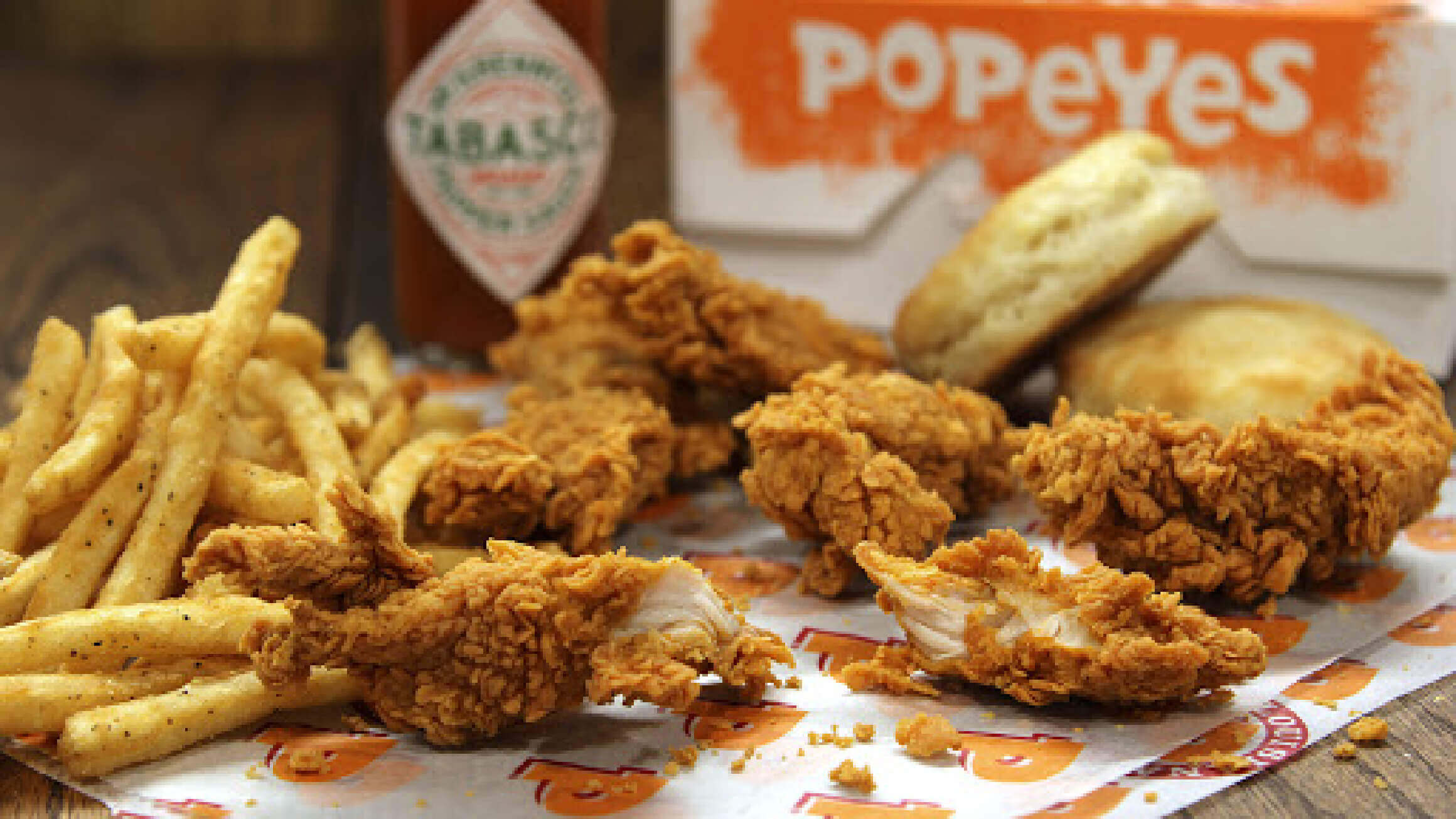 WHAT'S IN THE BOX?
Aged for up to three years in white oak barrels, TABASCO® brand Original Red Sauce delivers distinctive flavor from one of the most iconic Louisiana brands. So it only made sense to partner with the quick service restaurant delivering New Orleans flavor to consumers all over the globe. The result? Popeye's Wicked Chicken.
THE LTO
The Wicked Chicken snack box from Popeyes® Louisiana Kitchen met customer demand for flavor-forward, on-the-go options with a customizable level of heat. Thin strips of all-white-meat chicken were marinated in Louisiana seasonings, then hand-battered, breaded and fried in-restaurant to serve up crispy, twisty and "wicked" good. Served in a snack box piled high with Cajun Fries, a biscuit, ranch dipping sauce and a mini bottle of TABASCO® Sauce.
THE RESPONSE
Market tested in January 2010 in 231 restaurants in 15 U.S. cities, the limited-time offer became such a strong seller that it was chosen for Popeye's first global product launch. That summer, it sold in more than 1,900 restaurants in 28 countries. According to customer research, the inclusion of the TABASCO® Mini-Bottle was a selling point, with customers saying they liked being able to control the heat level.
"POPEYES FANS HAVE EXPERIENCED, AND LOVED, THE CRAZED WICKED CHICKEN FOR THE PAST TWO YEARS, AND THE SUCCESS OF THE PRODUCT SPARKED THE IDEA TO EXPAND ON THE FLAVOR VARIETIES." –DICK LYNCH, CHIEF GLOBAL BRAND OFFICER
The LTO was so successful, Popeye's launched Wicked Chicken with a twist in February 2012: Garlic Pepper Wicked Chicken. The same snack box concept was reintroduced with a new flavor and Garlic Pepper Parmesan Dipping Sauce, also served with a mini bottle of TABASCO® Sauce. The Wicked Chicken LTO followed Red Stick Chicken and Pepper Barrel Tenders, two successful menu items infused with TABASCO® Sauce, for a successful continued partnership between two brands that have taken New Orleans flavor global.
---
ABOUT POPEYES® LOUISIANA KITCHEN
Founded in 1972 in New Orleans, Popeyes® is a leader in the New Orleans segment of the foodservice industry and is the world's second largest quick-service chicken concept. As of April 18, 2010 Popeyes® had 1,944 restaurants in the United States, Puerto Rico, Guam and 27 foreign countries. For more information, visit the Popeyes® Louisiana Kitchen web site at www.popeyes.com.
---
Let's Make Magic Together
Contact us to discuss how the TABASCO® Family of Flavors® can spice up your menu, giving old and new customers alike an exciting reason to visit.