Alamo Crispy Shrimp & Chorizo Chili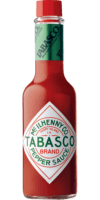 Chipotle Sauce, Original Red Sauce
Ingredients
| Ingredients | Weight | Measure |
| --- | --- | --- |
| TABASCO® brand Chipotle Pepper Sauce, divided | 3 oz. | --- |
| TABASCO® brand Original Red Sauce | 1 oz. | --- |
| Cilantro, divided | --- | 1 bunch |
| Garlic cloves, divided | --- | 6 ea. |
| Limes, juice only | --- | 2 ea. |
| Shrimp, 16/20, peeled and deveined | --- | 12 ea. |
| Onions, diced | --- | 2 ea. |
| Olive oil | --- | 1/4 cup |
| Green bell pepper, seeded and diced | --- | 1 ea. |
| Red bell pepper, seeded and diced | --- | 1 ea. |
| Chorizo | 1 lb. | --- |
| Ground cumin | --- | 1 Tbsp. |
| Ground coriander | --- | 1/2 Tbsp. |
| Ground ancho chile powder | --- | 1 Tbsp. |
| Tomato puree | --- | 1 can |
| Diced tomatoes | --- | 1 can |
| Chicken stock | --- | 1 qt. |
| White beans, cooked | --- | 1 can |
| Tempura batter | --- | 1 box |
| Sour cream | --- | 1/2 cup |
Preparation
Combine cilantro, 4 cloves garlic, lime juice and half the TABASCO® Chipotle Sauce.
Add shrimp 20 minutes prior to frying.
In a medium rondeau over medium-high heat, sauté onions and remaining garlic in olive oil until golden brown. Add both bell peppers and cook for 1 minute. Add chorizo and stir for 1 minute. Add cumin, coriander and ancho chile.
Stir 1 to 2 minutes to bloom the spice; add tomato puree, diced tomatoes and stock; bring to a boil, then reduce to a simmer.
After 30 minutes, add white beans; cook for 5 minutes, turn off the heat and season with TABASCO® Original Red Sauce.
Prepare tempura batter according to package directions; coat shrimp in batter and fry. In a separate bowl, combine sour cream and remaining TABASCO® Chipotle Sauce.
Ladle chili into bowls. Place 3 crispy shrimp on top of each bowl, then drizzle with chipotle sour cream and sprinkle remaining cilantro on top, and serve.