Beer-Battered Onion Rings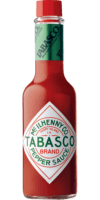 Original Red Sauce
Ingredients
| Ingredients | Weight | Measure |
| --- | --- | --- |
| TABASCO® brand Original Red Sauce | --- | to taste |
| Sweet onions | --- | 5 ea. |
| Buttermilk | --- | 2 qt. |
| Old Bay® Seasoning | --- | 1/4 cup |
| Flour | --- | 2 cups |
| Trisol | --- | 1 cup |
| Beer | 36 oz. | --- |
| Salt | --- | to taste |
Preparation
Peel and cut onions into rings about 3/4-in. thick.
In a mixing bowl, combine buttermilk, TABASCO® Sauce and Old Bay® Seasoning.
Soak onion rings in buttermilk mixture for 24 hours.
In a separate bowl, mix flour and Trisol together. Just before battering onion rings, whisk beer into flour-Trisol mixture. Dip rings into batter and fry at 350ºF until golden-brown, using the swimming method.
Remove from oil and place on paper towels to drain. Season with salt and serve.