Black Lentil & Rotisserie Chicken Chili
Chipotle Sauce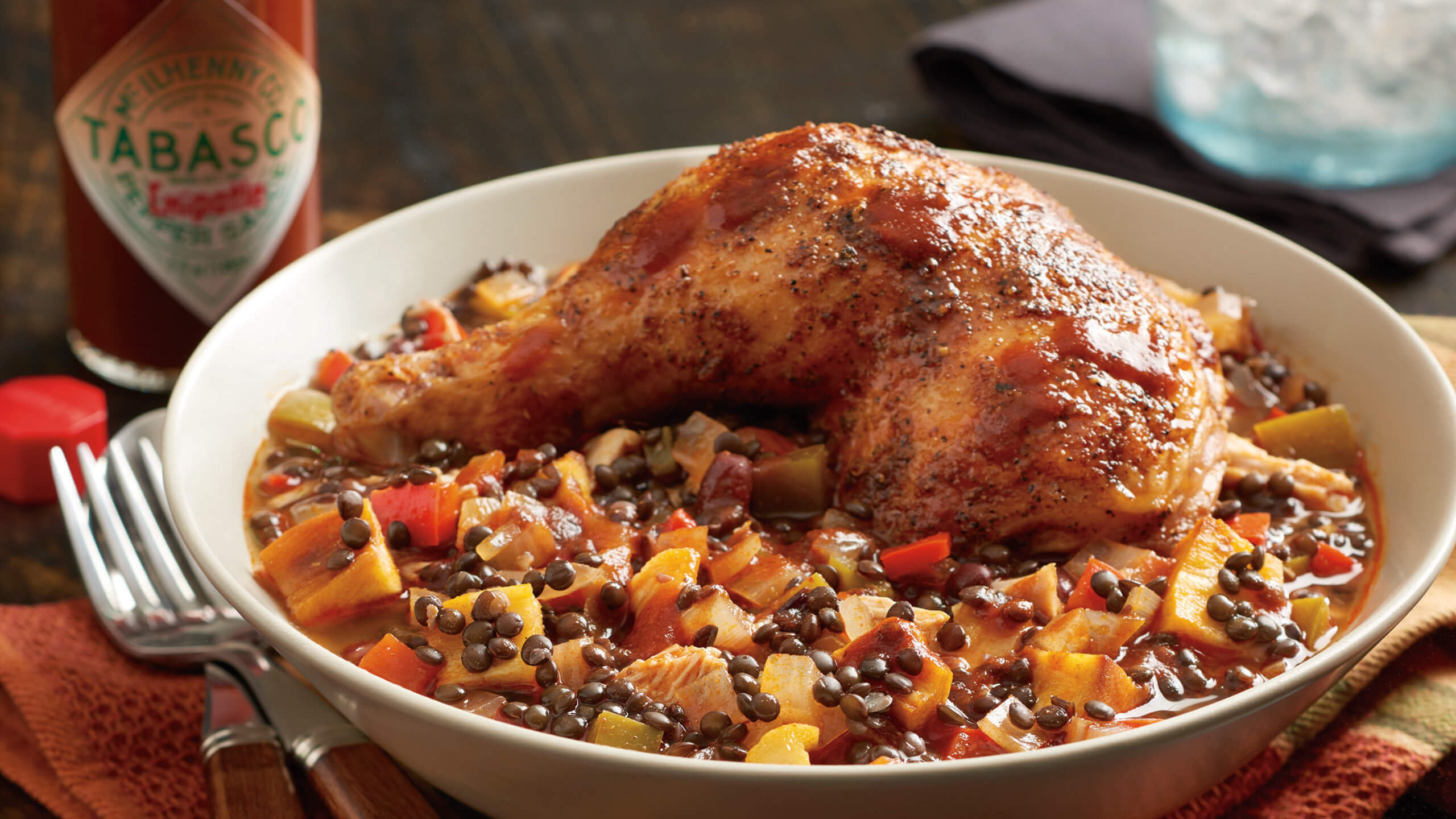 Ingredients
| Ingredients | Weight | Measure |
| --- | --- | --- |
| TABASCO® brand Chipotle Pepper Sauce | 2 oz. | --- |
| Rotisserie chicken, cooked and kept warm | --- | 1 ea. |
| Onion | --- | 1 ea. |
| Garlic cloves | --- | 3 ea. |
| Olive oil | --- | 1/4 cup |
| Green bell pepper, seeded and diced | --- | 1 ea. |
| Red bell pepper, seeded and diced | --- | 1 ea. |
| Ground cumin | --- | 1 Tbsp. |
| Ancho chile powder | --- | 1/2 Tbsp. |
| Diced tomatoes | --- | 2 cans |
| Bay leaf | --- | 1 ea. |
| Chicken stock | --- | 2 qt. |
| Black lentils, cooked | --- | 3 cups |
| Black beans | --- | 2 cups |
| Parsnips, roasted | --- | 2 cups |
Preparation
Quarter rotisserie chicken; keep warm.
Sauté onions and garlic in olive oil over medium-high heat until golden brown.
Add green and red bell peppers and stir for a minute; add spices and stir 1 minute more. Add TABASCO® Chipotle Sauce, tomatoes, bay leaf and stock. Bring to a boil, then reduce to a simmer.
Cook for 20 minutes. Add lentils, black beans and parsnips.
Season with additional TABASCO® Chipotle Sauce if needed.
Serve in bowls, with a quarter of the rotisserie chicken laying against the side of each bowl.