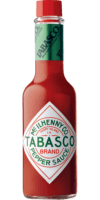 Original Red Sauce
Ingredients
| Ingredients | Weight | Measure |
| --- | --- | --- |
| TABASCO® brand Original Red Sauce | --- | 1/2 cup |
| Mayonnaise | --- | 1/4 cup |
| 6-inch baguettes, sliced in half lengthwise | --- | 12 ea. |
| Boneless ribs, cooked | 4-1/2 lbs. | --- |
| Sharp cheddar cheese slices | --- | 12 ea. |
| Fried pickle chips | --- | 48 ea. |
Preparation
Combine TABASCO® Sauce and mayonnaise; brush on the cut bottom of each baguette.
For each sandwich, lay 6 oz. boneless ribs over the spread.
Layer cheese and fried picle chips over ribs.
Close sandwich and place in a panini maker until cheese is melted and baguette is toasted, remove from panini maker, and serve.