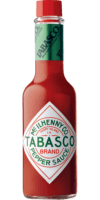 Original Red Sauce
Ingredients
| Ingredients | Weight | Measure |
| --- | --- | --- |
| TABASCO® brand Original Red Sauce | --- | 1/2 cup |
| Mayonnaise | --- | 1/4 cup |
| 6-inch baguettes, sliced in half lengthwise | --- | 12 ea. |
| Boneless ribs, cooked | 4-1/2 lbs. | --- |
| Sharp cheddar cheese slices | --- | 12 ea. |
| Fried pickle chips | --- | 48 ea. |
Preparation
Combine TABASCO® Sauce and mayonnaise; brush on the cut bottom of each baguette.
For each sandwich, lay 6 oz. boneless ribs over the spread.
Layer cheese and fried picle chips over ribs.
Close sandwich and place in a panini maker until cheese is melted and baguette is toasted, remove from panini maker, and serve.
Close Email Overlay
Be the first to know about new products and industrial formulations.
We'll keep you and your business up to date with all of the latest TABASCO® news.