Cape Cod Fry with Sriracha Tartar Sauce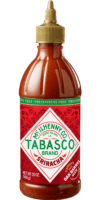 Sriracha Sauce
Chef Insights
Sriracha is a top-growing trend on menus, increasing +300% since 2014.
Datassential, Menu Trends, 2018
Ingredients
| Ingredients | Weight | Measure |
| --- | --- | --- |
| TABASCO brand Sriracha Sauce | --- | 1/2 cup |
| Lime juice | --- | 1 Tbsp. |
| Cilantro, chopped | --- | 1 Tbsp. |
| Tartar sauce | --- | 1/2 cup |
| Tempura batter mix | 12 oz. | 1 box |
| Cod fillets | 16 oz. | --- |
| Hoagie rolls | --- | 4 ea. |
| Lettuce | --- | 2 cups |
| Preserved lemon, sliced | --- | 8 slices |
Preparation
Preheat fryer to 350°F; preheat oven to 350°F.
Mix TABASCO Sriracha Sauce, lime juice and cilantro into tartar sauce; set aside.
Prepare tempura batter as directed on box.
Coat fish in batter; place in fryer until golden brown.
Cut rolls in half; place in oven until golden brown.
Layer lettuce and preserved lemon slices on bottom halves of hoagie rolls; place cod atop lemon slices. Coat cod with Sriracha tartar sauce. Cover with tops of rolls and serve.