Chicken-Fried Steak Burger with Spicy Sausage Gravy on a Biscuit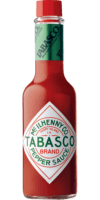 Green Jalapeño Sauce, Original Red Sauce
Ingredients
| Ingredients | Weight | Measure |
| --- | --- | --- |
| TABASCO® brand Green Jalapeño Pepper Sauce | --- | 2 oz. |
| TABASCO® brand Original Red Sauce | --- | 2 oz. |
| Buttermilk | --- | 2 cups |
| Burger patties, 4 oz. each | --- | 4 ea. |
| Unsalted butter | 1/2 lb. | --- |
| Onion | --- | 1 ea. |
| Fennel sausage | 1/2 lb. | --- |
| All-purpose flour, divided | --- | 2-1/2 cups |
| Fresh thyme, leaves picked | --- | 1/2 Tbsp. |
| Espresso | --- | 3 shots |
| Whole milk | --- | 3 cups |
| Biscuits | --- | 4 ea. |
| Fresh chives, minced | --- | 1/2 bunch |
Preparation
Combine TABASCO® Green Sauce in with buttermilk; place burger patties into mixture.
In a medium pot over medium heat, add butter and onions; cook until translucent. Add sausage in quarter-sized crumbles. Add 2 cups flour and thyme; stir until flour has absorbed the butter.
Stir espresso, then slowly pour in whole milk; reduce to a low simmer. Add TABASCO® Original Red Sauce to season before serving.
Dip each soaking burger patty into remaining 1/2 cup flour, back into the buttermilk, then once again into flour; fry burgers at 350ºF until golden brown.
Place each crispy burger atop a biscuit bottom so it looks like a muffin top. Ladle sausage gravy over top, lean the top of the biscuit on the side, and garnish with minced chives.