Chipotle Chicken Pasta Salad
Chipotle Sauce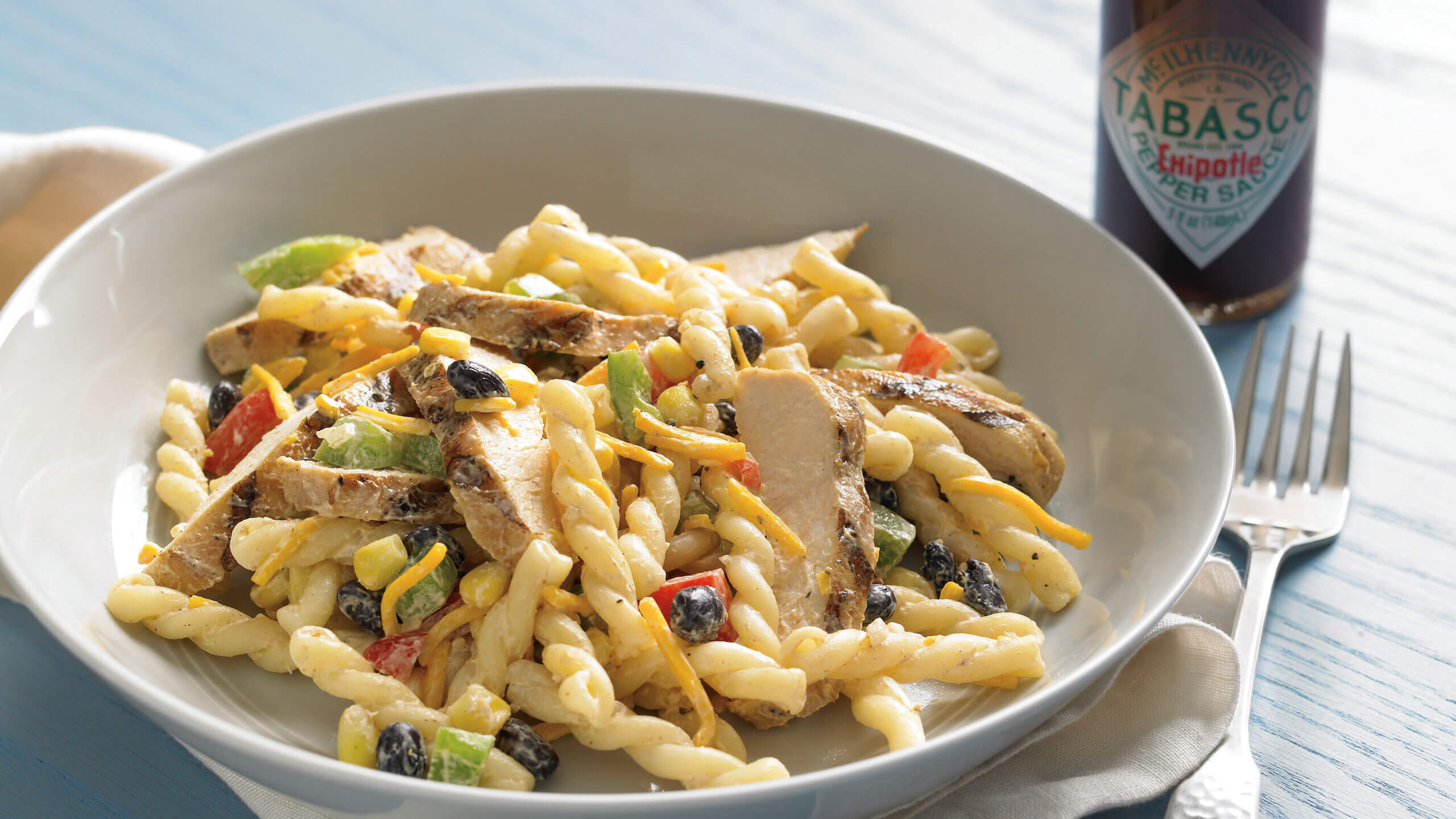 Ingredients
| Ingredients | Weight | Measure |
| --- | --- | --- |
| TABASCO® brand Chipotle Pepper Sauce | --- | Tbsp. |
| Box of gemelli pasta | --- | 1 ea. |
| Sour cream | --- | 1 pt. |
| Mayonnaise | --- | 1/4 cup |
| Onion, small | --- | 1 ea. |
| Red bell pepper, medium | --- | 1 ea. |
| Green bell pepper, medium | --- | 1 ea. |
| Can of black beans | --- | 1 ea. |
| Can of yellow corn | --- | 1 ea. |
| Chicken breast strips, grilled | 12 oz. | --- |
| Cheddar cheese, shredded | --- | 2 cups |
| Salt | --- | to taste |
| Ground black pepper | --- | to taste |
Preparation
Cook pasta; when al dente, rinse immediately in cold water to stop pasta from continuing to cook.
In a large salad bowl, mix sour cream, mayonnaise and 4 or more full tablespoons TABASCO® Chipotle Sauce (use more sauce for a smokier, spicier salad).
Finely chop onion and add to dressing mixture. Coarsely chop red and green bell peppers and stir into dressing. Open cans of black beans and corn, then rinse with water in a strainer until beans and corn kernels are clean. Let excess water drain off, then add to dressing mixture.
Chop chicken breast strips into half-inch pieces. Add chicken and drained and cooled pasta into dressing. Add shredded cheese and season to taste with salt and pepper. Let chill in refrigerator at least 1 hour before serving.