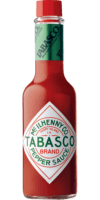 Original Red Sauce
Chef Insights
60% of consumers are likely to drink alcohol at brunch and 36% of brunch-goers order a Bloody Mary.
Beverage Industry, 2016
Ingredients
| Ingredients | Weight | Measure |
| --- | --- | --- |
| TABASCO® brand Original Red Sauce | --- | 1 tsp + 3 dashes (garnish) |
| Tomato juice | --- | 1/3 cup |
| Stout beer (or porter) | --- | 3-1/2 Tbsp. |
| Vodka | --- | 3 Tbsp. |
| Worcestershire sauce | --- | 1 tsp. |
| Lemon juice | --- | 1 tsp |
| Salt | --- | Pinch |
| Black pepper | --- | Pinch |
| Rosemary | --- | 1 sprig |
| Green olive | --- | 1 ea. |
| Hen egg, free range (garnish) | --- | 1 ea. |
| Vodka (garnish) | --- | Dash |
| Salt (garnish) | --- | Pinch |
| Black pepper (garnish) | --- | Pinch |
Preparation
Combine all the ingredients in a mixing glass, stir and pour into a short tumbler over cubed ice. Pierce the olive with the rosemary and rest on the rim of the glass.
For the egg yolk garnish, gently separate the yolk from the egg white (the latter can be discarded) and place in a mini serving bowl, or large spoon. Add a dash of vodka to the yolk followed by the TABASCO® Sauce. Finish with a pinch of salt and pepper and serve alongside the cocktail.
Close Email Overlay
LET'S STAY CONNECTED
Sign up for the latest product news, industry insights and TABASCO® Brand updates.