Hot Honey-Sriracha Fried Chicken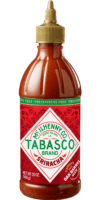 Sriracha Sauce
Chef Insights
Sriracha is a top-growing trend on menus, increasing +300% since 2014.
Datassential, Menu Trends, 2018
Ingredients
| Ingredients | Weight | Measure |
| --- | --- | --- |
| TABASCO brand Sriracha Sauce | --- | 4 Tbsp. |
| Honey | --- | 1 cup |
| Fried chicken tenders | 16 oz. | --- |
| Swiss cheese, sliced | --- | 8 ea. |
| Cornbread, sliced into 4-inch rounds | --- | 4 ea. |
| Bibb lettuce leaves | --- | 4 ea. |
Preparation
Preheat oven to 350°F.
Mix TABASCO Sriracha Sauce with honey and set aside.
Place chicken tenders in oven-safe dish. Top each with 2 slices cheese and cook until melted.
Cut cornbread rounds in half; place lettuce on each bottom half.
Layer tenders on lettuce and dress with Sriracha honey.
Close Email Overlay
LET'S STAY CONNECTED
Sign up for the latest product news, industry insights and TABASCO® Brand updates.