Hot off the Press Turkey Melt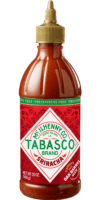 Sriracha Sauce
Ingredients
| Ingredients | Weight | Measure |
| --- | --- | --- |
| TABASCO® brand Sriracha Sauce | --- | 1/2 cup |
| Cream cheese | 4 oz. | --- |
| Ciabatta rolls, sliced in half | --- | 4 ea. |
| Sliced turkey | 16 oz. | --- |
| Sharp cheddar cheese slices | --- | 4 ea. |
| Spinach, washed and patted dry | --- | 2 cups |
| Apples, sliced | --- | 1 cup |
Preparation
Preheat oven to 350ºF.
Mix TABASCO® Sriracha Sauce with cream cheese.
Spread Sriracha–cream cheese mixture on both sides of each ciabatta roll.
Place 4 oz. sliced turkey on bottom of each roll. Top with sharp cheddar cheese, spinach and apples.
Bake sandwiches in oven until golden brown; serve warm.
Close Email Overlay
LET'S STAY CONNECTED
Sign up for the latest product news, industry insights and TABASCO® Brand updates.