Mac-&-Cheese Football Fries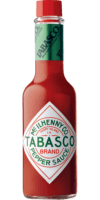 Original Red Sauce
Ingredients
| Ingredients | Weight | Measure |
| --- | --- | --- |
| TABASCO® brand Original Red Sauce | --- | 1 cup |
| Cheese sauce | --- | 2 qt. |
| Macaroni & cheese, prepared | --- | 2 qt. |
| Panko breadcrumbs | --- | 1 qt. |
| French fries | 3 lb. | --- |
Preparation
Combine TABASCO® Sauce and cheese sauce; keep warm in a steam table.
Using a #60 scoop, drop mac & cheese into Panko breadcrumbs; roll until fully covered.
Preheat a deep-fryer to 350ºF. Fry French fries until golden brown.
Place mac & cheese balls atop the French fries; spoon hot cheese sauce over top.