Mac & Cheese—Stuffed Burger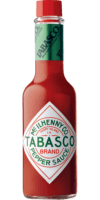 Chipotle Sauce, Original Red Sauce
Preparation
Fold TABASCO® Original Red Sauce into prepared mac & cheese. Form mixture into 2-oz. disks.
Fold TABASCO® Chipotle Sauce and fried onions into ground beef; ball into 4-1/2-oz. portions and flatten each patty. Place 1 mac-&-cheese disk on the center of 1 beef patty, lay another beef patty on top, and seal the edges shut.
Pan-roast burgers, placing in an oven to finish if necessary.
Toast buns. Lay 2 pieces lettuce and 2 slices tomato onto the bottom of each bun, place each stuffed burger atop tomatoes and serve with 4 oz. side salad.
Close Email Overlay
LET'S STAY CONNECTED
Sign up for the latest product news, industry insights and TABASCO® Brand updates.