Mediterranean Meatball Wrap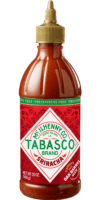 Sriracha Sauce
Ingredients
| Ingredients | Weight | Measure |
| --- | --- | --- |
| TABASCO® brand Sriracha Sauce | --- | 2 Tbsp. |
| Prepared tzatziki sauce | --- | 1 cup |
| Ground lamb | 12 oz. | --- |
| Parmesan breadcrumbs | --- | 6 Tbsp. |
| Olive oil | --- | 2 Tbsp. |
| Lettuce, chopped | --- | 2 cups |
| Naan flatbread | --- | 4 ea. |
| Tomatoes, diced | --- | 1 cup |
| Cucumber, shredded | --- | 1 cup |
Preparation
Mix TABASCO® Sriracha Sauce with tzatziki; set aside.
Mix ground lamb with breadcrumbs; form 1-oz. balls.
In a skillet over medium heat, add olive oil; cook lamb meatballs until temperature reaches 154ºF and outsides are crispy. Lay on paper towels to drain excess fat if needed.
Onto each naan, lay romaine, tomatoes, cucumber and 3 lamb meatballs.
Drizzle the Sriracha-tzatziki sauce over the top of each.
Fold each naan in half, using a toothpick to hold together if necessary; serve.
Close Email Overlay
LET'S STAY CONNECTED
Sign up for the latest product news, industry insights and TABASCO® Brand updates.