Nachos with Guac, Queso and Pico de Gallo
This dressed-up recipe for Nachos with Guac, Queso and Pico de Gallo is a delicious dish that's quick to prepare and sure to satisfy guests' game-day cravings.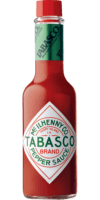 Original Red Sauce
Chef Insights
Nachos have reached ubiquity on appetizer menus and consumers are constantly searching for new flavors and preparation methods.
Datassential, MenuTrends, 2018
Preparation
Arrange the chips on an ovenproof dish
Mix TABASCO® Sauce into queso; pour queso sauce all over chips.
Place into a 350ºF oven for 3 minutes to toast chips.
Arrange guacamole around the base.
Garnish with pico de gallo.
Calculate profit
Your Profit
Cost Per Serving*
$2.42
Total Profit
$--.--
*Based on FDA average pricing for ingredients.
Close Email Overlay
LET'S STAY CONNECTED
Sign up for the latest product news, industry insights and TABASCO® Brand updates.