Onion Soup with Spiced Gouda Gratin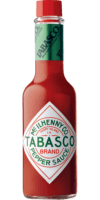 Chipotle Sauce, Original Red Sauce
Preparation
In a pot over medium heat, place butter. Add red and white onions and thyme; sweat onions until completely translucent; once cooked, add garlic and cook for 2 minutes. Add bay leaves and sherry vinegar.
Allow sherry vinegar to reduce by half. Add TABASCO® Original Red Sauce and chicken stock; reduce for 20 minutes.
Slice baguette on a bias into four slices long enough to cover the top of your serving bowls. Drizzle slices with equal amounts of TABASCO® Chipotle Sauce; place two slices of Gouda over the top of each baguette slice; place in oven to melt cheese.
Ladle soup into four bowls; place one cheese-topped baguette onto each bowl.