Chipotle Sauce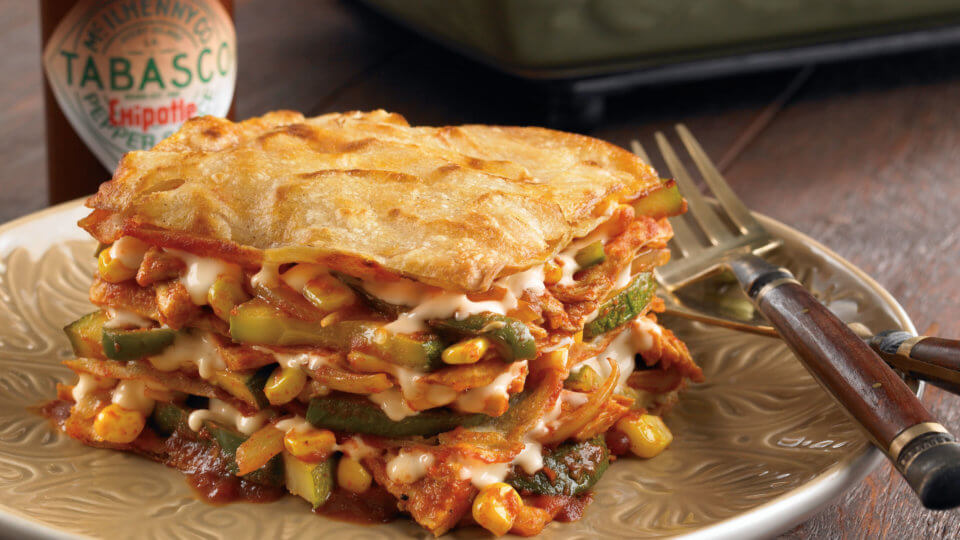 Ingredients
| Ingredients | Weight | Measure |
| --- | --- | --- |
| TABASCO® brand Chipotle Pepper Sauce | --- | 1/2 cup |
| Vegetable oil | --- | 4 cups |
| Corn tortillas, cut into 6-inch squares | --- | 16 ea. |
| Olive oil, divided | --- | 1/2 cup |
| Spanish onion, thinly sliced | --- | 1 ea. |
| Garlic cloves, minced | --- | 2 ea. |
| Basil leaves, minced | --- | 8 ea. |
| Tomato sauce | --- | 16 oz. |
| Zucchini, thinly sliced on a bias | --- | 2 ea. |
| Whole-kernel corn | --- | 1 cup |
| Poblano pepper, thinly sliced | --- | 1-1/2 cups |
| Poached chicken, shredded | --- | 2 cups |
| Mexican oregano | --- | 2 Tbsp. |
| Cayenne | --- | 1 tsp. |
| Oaxaca cheese, divided | --- | 3 cups |
| Salt | --- | to taste |
| Ground black pepper | --- | to taste |
Preparation
Preheat an oven to 350°F.
In a large pan with sides, heat vegetable oil over medium heat. When oil is hot, add 2 tortillas at a time until soft; remove and place on paper towels to dry.
In a separate pan over medium heat, add 1/4 cup olive oil and onions; cook until golden brown. Add garlic and basil, cook 1 minute, and add TABASCO® Chipotle Sauce and tomato sauce.
Let simmer 15 minutes, stirring occasionally.
In another pan over medium-high heat, add remaining 1/4 cup olive oil and zucchini; cook until light brown. Add corn and poblano peppers; cook 2 more minutes. Add tomato sauce mixture and poached chicken; stir and turn off heat.
In a 9" x 9" baking pan, place 4 tortillas on the bottom, layer 1/3 of the tomato-zucchini mixture on top, and sprinkle with 1 cup cheese. Layer tortillas, tomato-zucchini mixture and cheese twice more, then cover the top with 4 more tortilla squares.
Bake in the preheated oven uncovered for 15 minutes. Allow to cool for 20 minutes, cut and serve.