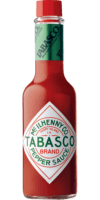 Original Red Sauce
Ingredients
| Ingredients | Weight | Measure |
| --- | --- | --- |
| TABASCO® brand Original Red Sauce | --- | 1/2 cup |
| Cheese sauce | --- | 1 qt. |
| Olive oil | --- | 1/4 cup |
| Onions, sliced | --- | 1/2 qt. |
| Red peppers, sliced | --- | 1/2 qt. |
| Green peppers, sliced | --- | 1/2 qt. |
| Kielbasa, cooked and sliced | 1 lb. | --- |
| Soft pretzel nubs | 2 lb. | --- |
Preparation
Combine TABASCO® Sauce and cheese sauce; keep warm in a steam table.
In a large rondeau over medium heat, add olive oil and onions; cook until translucent. Add red and green peppers and sliced kielbasa. Cook everything until kielbasa is warm, 3 to 4 min.
On a sheet pan, place pretzel nubs; Place pan into 350ºF oven until warmed through.
Spoon kielbasa/vegetable mixture over the pretzels, then spoon warm cheese sauce over top.