Slammin' Sriracha-Lime Tilapia Taco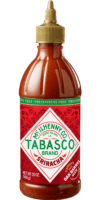 Sriracha Sauce
Chef Insights
Sriracha is a top-growing trend on menus, increasing +300% since 2014.
Datassential, Menu Trends, 2018
Ingredients
| Ingredients | Weight | Measure |
| --- | --- | --- |
| TABASCO brand Sriracha Sauce | --- | 1-1/2 Tbsp. |
| Ranch dressing | --- | 1 cup |
| Lime juice | --- | 1 Tbsp. |
| Corn tortillas, 6-in. diameter | --- | 4 ea. |
| Olive oil | --- | 2 Tbsp. |
| Tilapia, sliced | 8 oz. | --- |
| Red cabbage, shredded | --- | 1 cup |
| Corn | --- | 1/4 cup |
| Cotija cheese, shredded | --- | 1/4 cup |
Preparation
Mix TABASCO Sriracha Sauce, ranch dressing and lime juice; set aside.
Warm tortillas in a pan over medium-high heat; set aside.
Bring olive oil to its smoke point in a pan over medium heat.
Using tongs, gently place tilapia into the pan. Allow fish to fully caramelize before turning over. Adjust heat if fish starts to get too dark on either side.
Layer each tortilla with red cabbage, corn and cotija cheese.
Place tilapia on top and drizzle with Sriracha-lime-ranch dressing. Plate and serve.