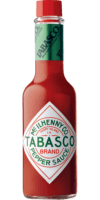 Original Red Sauce
Ingredients
| Ingredients | Weight | Measure |
| --- | --- | --- |
| TABASCO® brand Original Red Sauce | 1/8 oz. | --- |
| Sugar | 1-1/4 oz. | --- |
| Water | 1-1/4 oz. | --- |
| Fresh ginger | 1/2 oz. | --- |
| Lapsang souchong tea | 3/4 oz. | --- |
| Pekoe black tea | 1/8 oz. | --- |
| Lemon juice | 1 oz. | --- |
| Ginger liqueur | 1 oz. | --- |
| Russell's Reserve® 6-year-old rye whiskey | 1 oz. | --- |
| Angostura® aromatic bitters | 1/8 oz. | --- |
Preparation
To make ginger-infused simple syrup, heat sugar, water and ginger; stir until sugar is completely dissolved. Cool and strain.
Brew tea, steeping for 3 minutes; cool.
In a shaker, combine 1/2 oz. ginger-infused simple syrup with all other ingredients; shake well.
Pour over ice in a highball glass. Garnish with a lemon twist.
Close Email Overlay
LET'S STAY CONNECTED
Sign up for the latest product news, industry insights and TABASCO® Brand updates.