Southern Sriracha Shrimp & Grits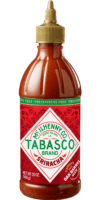 Sriracha Sauce
Ingredients
| Ingredients | Weight | Measure |
| --- | --- | --- |
| TABASCO® brand Sriracha Sauce | --- | 6 Tbsp. |
| Grits, cooked | --- | 4 cups |
| Shrimp, medium size, cooked | 12 oz. | --- |
| Butter | --- | 1 cup |
| Cajun seasoning | --- | 1/4 cup |
| Toasted Parmesan breadcrumbs | --- | 2 Tbsp. |
Preparation
Mix TABASCO® Sriracha Sauce with cooked grits.
In frying pan over medium heat, sauté shrimp in butter and Cajun seasoning until cooked through.
Sprinkle toasted breadcrumbs over Sriracha grits and top with Cajun shrimp. Serve hot.
Close Email Overlay
Be the first to know about new products and industrial formulations.
We'll keep you and your business up to date with all of the latest TABASCO® news.