Spicy Drawn Butter Plus-One
Our favorite way to use TABASCO® Sauce is in dairy-based dishes and sauces, like this melted butter mixture or in a beurre blanc, infused mozzarella or macaroni and cheese—to name a few!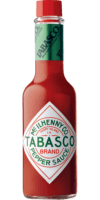 Original Red Sauce
Chef Insights
Drizzle this Spicy Drawn Butter over lobster tail, in baked goods or use it to cook a filet to perfection.
Ingredients
Preparation
Combine both ingredients, mix well.