Spicy Goat Cheese & Beet Flatbread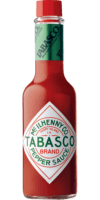 Original Red Sauce
Ingredients
| Ingredients | Weight | Measure |
| --- | --- | --- |
| TABASCO® brand Original Red Sauce | 2 oz. | --- |
| Goat cheese | --- | 6 oz. |
| Pizza dough | 14 oz. | --- |
| Pesto | --- | 1/2 cup |
| Rainbow beets, cooked, sliced into half moons | --- | 2 cups |
| Baby arugula | --- | 1 cup |
Preparation
Preheat an oven to 375°F.
Combine goat cheese with TABASCO® Sauce; chill.
Stretch pizza dough and spread pesto on top.
Place rainbow beets all over the top of the stretched dough, and crumble chilled goat cheese mixture over beets.
Bake flatbread until done.
Slice flatbread, then finish with arugula over the top.
Close Email Overlay
LET'S STAY CONNECTED
Sign up for the latest product news, industry insights and TABASCO® Brand updates.