Sriracha & Blue Cheese Turkey Burger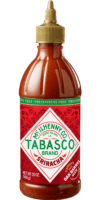 Sriracha Sauce
Chef Insights
Sriracha is a top-growing trend on menus, increasing +300% since 2014.
o Datassential, Menu Trends, 2018
Ingredients
| Ingredients | Weight | Measure |
| --- | --- | --- |
| TABASCO brand Sriracha Sauce | --- | 4 Tbsp. |
| Crumbled blue cheese | --- | 2 cups |
| Green onion, chopped | --- | 1/4 cup |
| Bacon, sliced | --- | 8 ea. |
| Ground turkey | 32 oz. | --- |
| Cherry tomatoes, halved | --- | 1 cup |
| Romaine lettuce leaves | --- | 8 ea. |
| Sesame seed buns | --- | 4 ea. |
Preparation
Preheat grill to medium-high; preheat oven to 350°F.
Mix TABASCO Sriracha Sauce with blue cheese and green onion; set aside.
Cook bacon on griddle until crispy; set aside.
Form the ground turkey into 4 (8-oz.) patties and cook on griddle until temperature reaches 165oF. Add Sriracha–blue cheese mixture to top and lightly melt.
Roast cherry tomatoes in oven, 2-3 min.
Place lettuce on bottom half of each bun; layer burgers over top.
Place cherry tomatoes atop burger and layer with bacon slices. Place top of bun on each burger and serve.