Sriracha Bourbon Salmon Bowl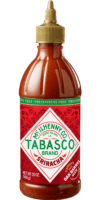 Sriracha Sauce
Chef Insights
Sriracha is a top-growing trend on menus, increasing +300% since 2014.
Datassential, Menu Trends, 2018
Ingredients
| Ingredients | Weight | Measure |
| --- | --- | --- |
| TABASCO brand Sriracha Sauce | --- | 1 Tbsp. |
| Bourbon barbecue sauce | --- | 1/2 cup |
| Salmon fillet | 16 oz. | --- |
| Rice pilaf, prepared | --- | 4 cups |
| Sesame seeds | --- | 2 Tbsp. |
| Steamed vegetables, prepared | --- | 1-1/2 cups |
Preparation
Preheat oven to 350°F.
Mix TABASCO Sriracha Sauce into bourbon barbecue sauce.
Glaze salmon filet with Sriracha-bourbon barbecue sauce and bake to desired temperature.
Spoon rice pilaf onto serving dish; sprinkle sesame seeds over top.
Place salmon over pilaf and serve with steamed vegetables on the side.
Close Email Overlay
LET'S STAY CONNECTED
Sign up for the latest product news, industry insights and TABASCO® Brand updates.