Sriracha Chicken & Blue Cheese Pizza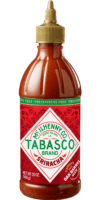 Sriracha Sauce
Chef Insights
Sriracha is a top-growing trend on menus, increasing +300% since 2014.
Datassential, Menu Trends, 2018
Ingredients
| Ingredients | Weight | Measure |
| --- | --- | --- |
| TABASCO brand Sriracha Sauce | --- | 6 Tbsp. |
| Butter | --- | 1/2 cup |
| Lemon juice | --- | 1/4 cup |
| Pizza crusts, 12-in. diameter | --- | 4 ea. |
| Mozzarella cheese, shredded | --- | 2 cups |
| Red onion | --- | 1/2 cup |
| Chicken, grilled and sliced into strips | --- | 2 cups |
| Blue cheese, crumbled | --- | 2 cups |
Preparation
Preheat oven to 375°F.
Melt butter; mix in TABASCO Sriracha Sauce and lemon juice; set aside.
Atop each crust, layer mozzarella cheese, red onion, grilled chicken and crumbled blue cheese.
Bake pizzas in oven 14–16 min.
When pizzas are done, drizzle Sriracha lemon butter on top. Serve hot.
Close Email Overlay
LET'S STAY CONNECTED
Sign up for the latest product news, industry insights and TABASCO® Brand updates.