Sriracha Tequila Cocktail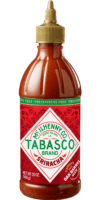 Sriracha Sauce
Ingredients
| Ingredients | Weight | Measure |
| --- | --- | --- |
| TABASCO® Sriracha Sauce | --- | 1 Tbsp. |
| Silver Tequila | --- | 1/2 cup |
| Lime juice | --- | 1/4 cup |
| Lemon-Lime Seltzer | --- | 2 cups |
| Ice Cubes | --- | 2 cups |
| Kosher Salt | --- | As needed |
Preparation
In a small pitcher, combine all ingredients. Stir gently.
Using leftover limes, rub the top of four glasses and rim with salt.
Fill each glass with 1/2 cup of ice. Divide the mixture between glasses
Close Email Overlay
LET'S STAY CONNECTED
Sign up for the latest product news, industry insights and TABASCO® Brand updates.