Starting Line Sweet & Spicy Shrimp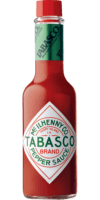 Original Red Sauce, SWEET & Spicy Sauce
Preparation
In a deep fryer, heat oil to 360ºF.
Mix mayonnaise with TABASCO® SWEET & Spicy and Original Red Sauces; set aside.
Dredge shrimp in cornstarch and deep-fry until shrimp are slightly brown. Remove to drain on a paper towel.
Toss cooked shrimp with mayonnaise mixture; coat evenly.
For each serving, place one-quarter of the shrimp in a lettuce cup. Garnish with chopped green onions, season with salt and pepper, and serve.