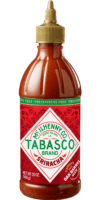 Sriracha Sauce
Chef Insights
Sriracha is a top-growing trend on menus, increasing +300% since 2014.
Datassential, Menu Trends, 2018
Ingredients
| Ingredients | Weight | Measure |
| --- | --- | --- |
| TABASCO brand Sriracha Sauce | --- | 2 Tbsp. |
| Seedless raspberry jam | --- | 1/4 cup |
| Sour cream | --- | 1 cup |
| Confectioners' sugar | --- | 1/2 cup |
| Water | --- | 2 Tbsp. |
| Cake donuts | --- | 4 ea. |
Preparation
Mix TABASCO Sriracha Sauce with raspberry jam and set aside.
Mix sour cream, confectioners' sugar and water.
Coat tops of donuts with sour cream mixture.
Drizzle Sriracha-raspberry jam across donut tops and serve.
Close Email Overlay
LET'S STAY CONNECTED
Sign up for the latest product news, industry insights and TABASCO® Brand updates.