Tex Mex Benedict
This satisfying Tex-Mex Benedict recipe will up your poached egg game with skirt steak, cheddar biscuit dough and plenty of spice.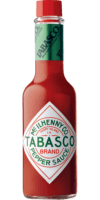 Green Jalapeño Sauce, Original Red Sauce
Chef Insights
Eggs Benedict remains a classic breakfast and brunch offering, but continues to increase in menu penetration (up by 19% over the past 4 years).
Datassential, MenuTrends, 2018
Preparation
Combine 1/2 cup TABASCO® Original Red Sauce, with pico de gallo; set aside.
Combine remaining 1/2 cup TABASCO® Original Red Sauce, with hollandaise sauce; keep warm.
Lay out uncooked biscuits, brush on melted butter and TABASCO® Green Jalapeño Sauce; cook biscuits according to instructions.
Cut baked biscuits in half; place 4 oz. sliced steak on the bottom of each biscuit.
Lay 1 poached egg over steak, spoon hollandaise over steak and spoon equal amounts of pico de gallo over that.
Lay the top of the biscuit on the side of the stack.
Close Email Overlay
LET'S STAY CONNECTED
Sign up for the latest product news, industry insights and TABASCO® Brand updates.