Watermelon & Feta Salad with Spiced Honey-Lime Dressing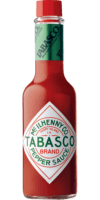 Original Red Sauce
Ingredients
| Ingredients | Weight | Measure |
| --- | --- | --- |
| TABASCO® brand Original Red Sauce | --- | 1 tsp. |
| Fresh lime juice | --- | 3 tsp. |
| Olive oil | --- | 5 tsp. |
| White vinegar | --- | 2-1/3 Tbsp. |
| Honey | --- | 2 tsp. |
| Shallots, finely chopped | --- | 1 Tbsp. |
| Fresh coriander, chopped | --- | 1 Tbsp. |
| Fresh mint, chopped | --- | 1 Tbsp. |
| Ingredients | Weight | Measure |
| --- | --- | --- |
| Mixed salad leaves | 14 oz. | --- |
| Fennel bulb, thinly sliced | 3-1/2 oz. | --- |
| Watermelon, diced | 3-1/2 oz. | --- |
| Feta cheese, crumbled fine | 3-1/2 oz. | --- |
Preparation
In a small bowl, mix together lime juice, vinegar, olive oil, chopped shallots, chopped mint, chopped coriander, TABASCO® Sauce and honey together; set aside.
In a serving bowl, combine salad leaves, sliced fennel and watermelon; toss with Spiced Honey-Lime Dressing.
To serve, top with the crumbled cheese.
Close Email Overlay
LET'S STAY CONNECTED
Sign up for the latest product news, industry insights and TABASCO® Brand updates.