You're My Boy Blue Turkey Burger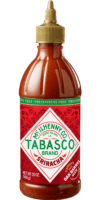 Sriracha Sauce
Ingredients
| Ingredients | Weight | Measure |
| --- | --- | --- |
| TABASCO® brand Sriracha Sauce | --- | 4 Tbsp. |
| Crumbled blue cheese | --- | 2 cups |
| Green onion, chopped | --- | 1/4 cup |
| Bacon slices | --- | 8 ea. |
| Ground turkey | 32 oz. | --- |
| Cherry tomatoes | --- | 1 cup |
| Romaine lettuce leaves | --- | 8 ea. |
| Sesame seed buns | --- | 4 ea. |
Preparation
Preheat a griddle to medium-high; preheat an oven to 350ºF.
On griddle, cook bacon until crispy; set aside.
Make four 8-oz. patties from ground turkey; cook on griddle until temperature reaches 165ºF. Add Sriracha–blue cheese mixture to top of each patty, and lightly melt.
Slice cherry tomatoes in half, roast in oven 2–3 minutes.
Place 2 lettuce leaves on bottom of each bun; place a burger over each. Place cherry tomatoes atop burgers and layer each with 2 bacon slices. Close burgers with top buns and serve.
Close Email Overlay
Be the first to know about new products and industrial formulations.
We'll keep you and your business up to date with all of the latest TABASCO® news.