Trendy New Takes on Classic Cocktails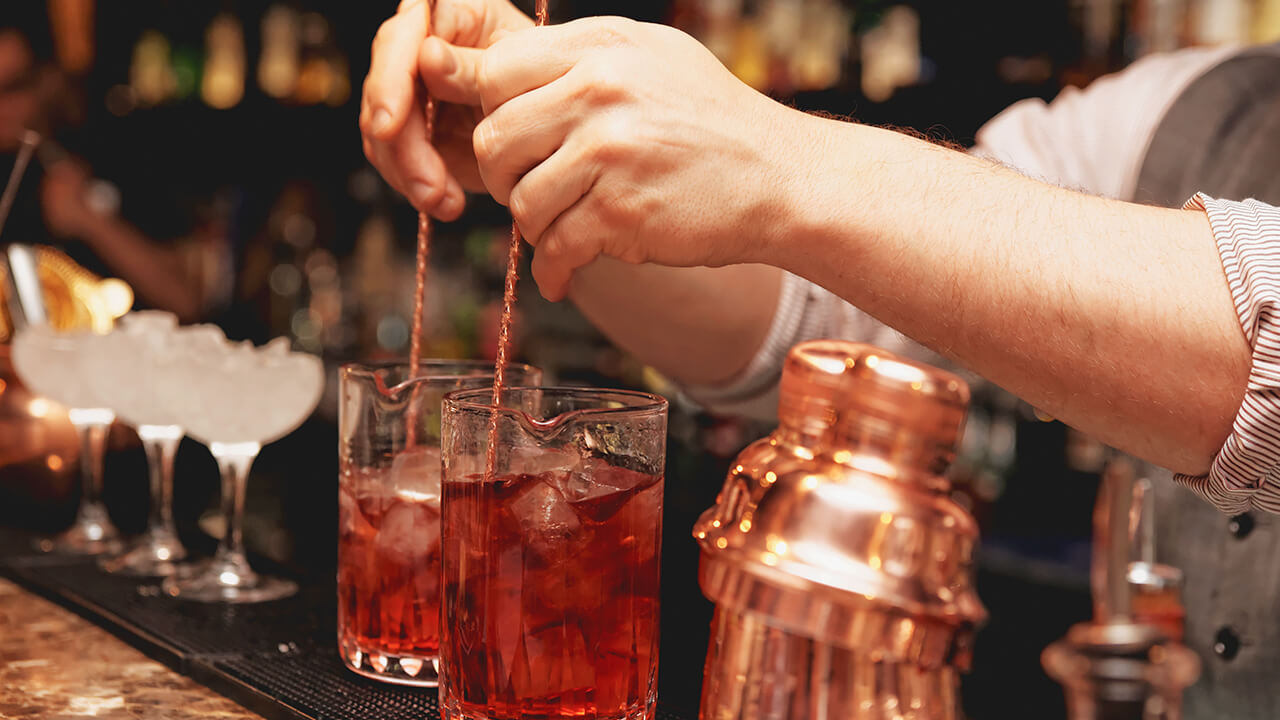 With about two-thirds of consumers saying they're interested in spicing up their beverages
1
and 75% saying they enjoy trying new or unique flavors in their drinks
2
, a flavor-infused cocktail (or mocktail) menu is a great way to quench customers' thirst for novelty. With the nine unique flavor profiles of the TABASCO® Family of Flavors® lineup, the possibilities are as limitless as your imagination.
Mocktails:
Interest towards low or no-proof drinks is growing among both customers and mixologists: mocktails rose 35% on menus between 2016 and 2019, according to Mintel
3
. Quench customers' thirst for booze-free beverages that still pack a flavor punch with options like this Watermelon Lemonade which can also be spiked with gin or vodka.
Spritzers:
A wine spritzer combines wine with sparkling water and other flavoring for a refreshing aperitif that's low in alcohol. Our Twisted Wine Spritzer uses chardonnay with a dash of TABASCO® Habanero Sauce for a touch of unexpected fruity heat.
Margaritas:
Margaritas are one of the most popular and enduring cocktails out there, experiencing +549% menu growth in the last four years, according to Datassential. While the spicy margarita has long been a mainstay on Mexican menus, other concepts can take advantage of this seamless marriage of flavors. Try our
Piperita
, featuring Campari and an ample dash of TABASCO® Original Red Sauce, or The Scorpion Margarita, featuring our spiciest sauce yet. For another refreshing, tequila-based drink, try a
classic Paloma
flavored up with a house-made agave-chipotle syrup.
Whiskey Sour:
Whether you make them from scratch or with the help of a mix, the whiskey sour is a quintessential brown spirit cocktail. Remix yours with this
Smoked Tea Whiskey Sour recipe
, which blends two kinds of tea, fresh ginger and bitters with a dash of spice for a complex and sophisticated take.
Martini:
Shake major flavor into your martinis to make a boozy cocktail even better. Make up your own, or use this simple recipe for a vodka-based
Hot and Dirty Martini
spiced with TABASCO® Green Jalapeño Pepper Sauce—an unexpected addition to a classic briny martini.
Micheladas:
Micheladas are a refreshing beer-based cocktail that complements many types of food, from Mexican and Tex-Mex to fried apps and game-day dishes. A Mexican pilsner is a classic base, but whatever lighter beer you have on tap will do the trick. Try the classic
MVP Michelada
mixed with TABASCO® Original Red Sauce, seasonings and plenty of fresh lime juice, or the beautifully blush-hued
Cielo Rojo Michelada
featuring TABASCO® Chipotle Pepper Sauce and the classic clam and tomato juice mixer.
Fruity cocktails:
Who doesn't love a lightly sweetened cocktail dressed up with fresh fruit? The
Straw-Avery Island
features house-made strawberry mint lime simple syrup and Hot Dickel™ barrel-aged whiskey infused with TABASCO® Original Red Sauce. Add beachy vibes with the Tropical Heat Wave, a rum-based cocktail infused with banana and pineapple, spiced with fruity Habanero and served over ice. With carefully honed flavor profiles crafted from high-quality ingredients, the TABASCO® Family of Flavors® are a mixologist's best friend. Make sure to keep the full lineup behind the bar for when inspiration strikes!
1
Datassential, Independent study, Dec. 2018
2
Technomic, Now & Next at the Bar Report, March 2018
3
Italie, Leanne, "With a nudge from the young and sober, mocktails take hold," AP News, 9/3/2019